YA Books About Fandom
Cinderella goes to the con in this fandom-fueled twist on the classic fairy tale.
Part romance, part love letter to nerd culture, and all totally adorbs, Geekerella is a fairy tale for anyone who believes in the magic of fandom. Geek girl Elle Wittimer lives and breathes Starfield, the classic sci-fi series she grew up watching with her late father. So when she sees a cosplay contest for a new Starfieldmovie, she has to enter. The prize? An invitation to the ExcelsiCon Cosplay Ball, and a meet-and-greet with the actor slated to play Federation Prince Carmindor in the reboot. With savings from her gig at the Magic Pumpkin food truck (and her dad's old costume), Elle's determined to win…unless her stepsisters get there first.
Teen actor Darien Freeman used to live for cons—before he was famous. Now they're nothing but autographs and awkward meet-and-greets. Playing Carmindor is all he's ever wanted, but the Starfield fandom has written him off as just another dumb heartthrob. As ExcelsiCon draws near, Darien feels more and more like a fake—until he meets a girl who shows him otherwise.
Meet Scarlett Epstein, BNF (Big Name Fan) in her online community of fanfiction writers, world-class nobody at Melville High. Her best (read: only) IRL friends are Avery, a painfully shy and annoyingly attractive bookworm, and Ruth, her weed-smoking, possibly insane seventy-three-year-old neighbor.
When Scarlett's beloved TV show is canceled and her longtime crush, Gideon, is sucked out of her orbit and into the dark and distant world of Populars, Scarlett turns to the fanfic message boards for comfort. This time, though, her subjects aren't the swoon-worthy stars of her fave series—they're the real-life kids from her high school. And if they ever find out what Scarlett truly thinks about them, she'll be thrust into a situation far more dramatic than anything she's ever seen on TV…
College freshman Liv is more than just a fangirl: The Starveil movies are her life… So, when her favorite character, Captain Matt Spartan, is killed off at the end of the last movie, Liv Just. Can't. Deal.
Tired of sitting in her room sobbing, Liv decides to launch an online campaign to bring her beloved hero back to life. With the help of her best friend, Xander, actor and steampunk cosplayer extraordinaire, she creates #SpartanSurvived, a campaign to ignite the fandom. But as her online life succeeds beyond her wildest dreams, Liv is forced to balance that with the pressures of school, her mother's disapproval, and her (mostly nonexistent and entirely traumatic) romantic life. A trip to DragonCon with Xander might be exactly what she needs to figure out what she really wants.
Cath is a Simon Snow fan.
Okay, the whole world is a Simon Snow fan..
But for Cath, being a fan is her life—and she's really good at it. She and her twin sister, Wren, ensconced themselves in the Simon Snow series when they were just kids; it's what got them through their mother leaving. Reading. Rereading. Hanging out in Simon Snow forums, writing Simon Snow fan fiction, dressing up like the characters for every movie premiere.
Cath's sister has mostly grown away from fandom, but Cath can't let go. She doesn't want to.
Now that they're going to college, Wren has told Cath she doesn't want to be roommates. Cath is on her own, completely outside of her comfort zone. She's got a surly roommate with a charming, always-around boyfriend, a fiction-writing professor who thinks fan fiction is the end of the civilized world, a handsome classmate who only wants to talk about words… And she can't stop worrying about her dad, who's loving and fragile and has never really been alone.
For Cath, the question is: Can she do this? Can she make it without Wren holding her hand? Is she ready to start living her own life? Writing her own stories?
And does she even want to move on if it means leaving Simon Snow behind?
Simon Snow is the worst Chosen One who's ever been chosen.
That's what his roommate, Baz, says. And Baz might be evil and a vampire and a complete git, but he's probably right.
Half the time, Simon can't even make his wand work, and the other half, he starts something on fire. His mentor's avoiding him, his girlfriend broke up with him, and there's a magic-eating monster running around, wearing Simon's face. Baz would be having a field day with all this, if he were here — it's their last year at the Watford School of Magicks, and Simon's infuriating nemesis didn't even bother to show up.
Carry On – The Rise and Fall of Simon Snow is a ghost story, a love story and a mystery. It has just as much kissing and talking as you'd expect from a Rainbow Rowell story – but far, far more monsters.
Three friends, two love stories, one convention: this fun, feminist love letter to geek culture is all about fandom, friendship, and finding the courage to be yourself.
Charlie likes to stand out. She's a vlogger and actress promoting her first movie at SupaCon, and this is her chance to show fans she's over her public breakup with co-star Reese Ryan. When internet-famous cool-girl actress Alyssa Huntington arrives as a surprise guest, it seems Charlie's long-time crush on her isn't as one-sided as she thought.
Taylor likes to blend in. Her brain is wired differently, making her fear change. And there's one thing in her life she knows will never change: her friendship with her best guy friend Jamie—no matter how much she may secretly want it to. But when she hears about a fan contest for her favorite fandom, she starts to rethink her rules on playing it safe.
Queens of Geek by Jen Wilde, chosen by readers like you for Macmillan's young adult imprint Swoon Reads, is an empowering novel for anyone who has ever felt that fandom is family.
Her story is a phenomenon. Her life is a disaster.
In the real world, Eliza Mirk is shy, weird, and friendless. Online, she's LadyConstellation, the anonymous creator of the wildly popular webcomic Monstrous Sea. Eliza can't imagine enjoying the real world as much as she loves the online one, and she has no desire to try.
Then Wallace Warland, Monstrous Sea's biggest fanfiction writer, transfers to her school. Wallace thinks Eliza is just another fan, and as he draws her out of her shell, she begins to wonder if a life offline might be worthwhile.
But when Eliza's secret is accidentally shared with the world, everything she's built—her story, her relationship with Wallace, and even her sanity—begins to fall apart.
Best friends, big fans, a mysterious webcomic, and a long-lost girl collide in this riveting novel, perfect for fans of both Cory Doctorow and Sarah Dessen; illustrated throughout with comics.
Once upon a time, two best friends created a princess together. Libby drew the pictures, May wrote the tales, and their heroine, Princess X, slayed all the dragons and scaled all the mountains their imaginations could conjure.
Once upon a few years later, Libby was in the car with her mom, driving across the Ballard Bridge on a rainy night. When the car went over the side, Libby passed away, and Princess X died with her.
Once upon a now: May is sixteen and lonely, wandering the streets of Seattle, when she sees a sticker slapped in a corner window.
Princess X?
When May looks around, she sees the Princess everywhere: Stickers. Patches. Graffiti. There's an entire underground culture, focused around a webcomic at IAmPrincessX.com. The more May explores the webcomic, the more she sees disturbing similarities between Libby's story and Princess X online. And that means that only one person could have started this phenomenon—her best friend, Libby, who lives.
CLAIRE is a sixteen-year-old fangirl obsessed with the show Demon Heart. FOREST is an actor on Demon Heart who dreams of bigger roles. When the two meet at a local Comic-Con panel, it's a dream come true for Claire. Until the Q&A, that is, when Forest laughs off Claire's assertion that his character is gay.
Claire is devastated. After all, every last word of her super-popular fanfic revolves around the romance between Forest's character and his male frenemy. She can't believe her hero turned out to be a closed-minded jerk. Forest is mostly confused that anyone would think his character is gay. Because he's not. Definitely not.
Unfortunately for Demon Heart, when the video of the disastrous Q&A goes viral, the producers have a PR nightmare on their hands. In order to help bolster their image within the LGBTQ+ community-as well as with their fans-they hire Claire to join the cast for the rest of their publicity tour. What ensues is a series of colorful Comic-Con clashes between the fans and the show that lead Forest to question his assumptions about sexuality and help Claire come out of her shell. But how far will Claire go to make her ship canon? To what lengths will Forest go to stop her and protect his career? And will Claire ever get the guts to make a move on Tess, the very cute, extremely cool fanartist she keeps running into? Ship It is a funny, tender, and honest look at all the feels that come with being a fan.
---
The Coffee Shop AU
Seventeen-year-old Delilah Green wouldn't have chosen to do her last year of school this way, but she figures it's working fine. While her dad goes on a trip to fix his broken heart after her mom left him for another man, Del manages the family cafe. Easy, she thinks. But what about homework? Or the nasty posse of mean girls making her life hell? Or her best friend who won't stop guilt-tripping her? Or her other best friend who might go to jail for love if Del doesn't do something? But really, who cares about any of that when all Del can think about is beautiful Rosa who dances every night across the street. . . . Until one day Rosa comes in the cafe door. And if Rosa starts thinking about Del, too, then how in the name of caramel milkshakes will Del get the rest of it together?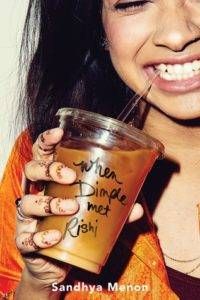 Dimple Shah has it all figured out. With graduation behind her, she's more than ready for a break from her family, from Mamma's inexplicable obsession with her finding the "Ideal Indian Husband." Ugh. Dimple knows they must respect her principles on some level, though. If they truly believed she needed a husband right now, they wouldn't have paid for her to attend a summer program for aspiring web developers…right?
Rishi Patel is a hopeless romantic. So when his parents tell him that his future wife will be attending the same summer program as him—wherein he'll have to woo her—he's totally on board. Because as silly as it sounds to most people in his life, Rishi wants to be arranged, believes in the power of tradition, stability, and being a part of something much bigger than himself.
The Shahs and Patels didn't mean to start turning the wheels on this "suggested arrangement" so early in their children's lives, but when they noticed them both gravitate toward the same summer program, they figured, Why not?
Dimple and Rishi may think they have each other figured out. But when opposites clash, love works hard to prove itself in the most unexpected ways.
---
Enemies-to-Lovers
Choose: A quick death… or slow poison…
About to be executed for murder, Yelena is offered an extraordinary reprieve. She'll eat the best meals, have rooms in the palace—and risk assassination by anyone trying to kill the Commander of Ixia.
And so Yelena chooses to become a food taster. But the chief of security, leaving nothing to chance, deliberately feeds her Butterfly's Dust—and only by appearing for her daily antidote will she delay an agonizing death from the poison.
As Yelena tries to escape her new dilemma, disasters keep mounting. Rebels plot to seize Ixia and Yelena develops magical powers she can't control. Her life is threatened again and choices must be made. But this time the outcomes aren't so clear…
First Son Alex Claremont-Diaz is the closest thing to a prince this side of the Atlantic. With his intrepid sister and the Veep's genius granddaughter, they're the White House Trio, a beautiful millennial marketing strategy for his mother, President Ellen Claremont. International socialite duties do have downsides—namely, when photos of a confrontation with his longtime nemesis Prince Henry at a royal wedding leak to the tabloids and threaten American/British relations.
The plan for damage control: staging a fake friendship between the First Son and the Prince. Alex is busy enough handling his mother's bloodthirsty opponents and his own political ambitions without an uptight royal slowing him down. But beneath Henry's Prince Charming veneer, there's a soft-hearted eccentric with a dry sense of humor and more than one ghost haunting him.
As President Claremont kicks off her reelection bid, Alex finds himself hurtling into a secret relationship with Henry that could derail the campaign and upend two nations. And Henry throws everything into question for Alex, an impulsive, charming guy who thought he knew everything: What is worth the sacrifice? How do you do all the good you can do? And, most importantly, how will history remember you?
At sixteen, Hadley Moore knows exactly who she is—a swimmer who will earn a scholarship to college. Totally worth all the hard work, even if her aching shoulders don't agree. So when a guy dressed as Hollywood's latest action hero, Heath Hall, crashes her swim meet, she isn't amused. Instead, she's determined to make sure he doesn't bother her again. Only she's not sure exactly who he is.
The swim meet isn't the first event the imposter has interrupted, but a little digging turns up a surprising number of people who could be Heath Hall, including Hadley's ex-boyfriend and her best friend's crush. She soon finds herself getting caught up in the mysterious world of the fake Heath Hall.
As Hadley gets closer to uncovering the masked boy's identity she also discovers some uncomfortable truths about herself—like she might resent the long shadow her late brother has cast over her family, that she isn't as happy as she pretends to be with her life choices… and that she is falling for the last guy she ever thought she would like.
Mia and Jake have known each other their whole lives. They've endured summer vacations, Sunday brunches, even dentist visits together. Their mothers, who are best friends, are convinced that Mia and Jake would be the perfect couple, even though they can't stand to be in the same room together.
After Mia's mom turns away yet another cute boy, Mia and Jake decide they've have had enough. Together, they hatch a plan to get their moms off their backs. Permanently. All they have to do is pretend to date and then stage the worst breakup of all time—and then they'll be free.
The only problem is, maybe Jake and Mia don't hate each other as much as they once thought…
Since birth, Nyx has been betrothed to the evil ruler of her kingdom-all because of a foolish bargain struck by her father. And since birth, she has been in training to kill him.
With no choice but to fulfill her duty, Nyx resents her family for never trying to save her and hates herself for wanting to escape her fate. Still, on her seventeenth birthday, Nyx abandons everything she's ever known to marry the all-powerful, immortal Ignifex. Her plan? Seduce him, destroy his enchanted castle, and break the nine-hundred-year-old curse he put on her people.
But Ignifex is not at all what Nyx expected. The strangely charming lord beguiles her, and his castle—a shifting maze of magical rooms—enthralls her.
As Nyx searches for a way to free her homeland by uncovering Ignifex's secrets, she finds herself unwillingly drawn to him. Even if she could bring herself to love her sworn enemy, how can she refuse her duty to kill him? With time running out, Nyx must decide what is more important: the future of her kingdom, or the man she was never supposed to love.
---
Friends-to-Lovers
When she was nine, Megan Meade met a group of terrible, mean, Popsicle-goo-covered boys, the sons of her father's friend — the McGowan boys. Now, seven years later, Megan's army doctor parents are shipping off to Korea and Megan is being sent to live with the little monsters, who are older now and quite different than she remembered them.
Living in a house with seven boys will give Megan, who has never even been kissed, the perfect opportunity to learn everything there is to know about boys. And she'll send all her notes to her best friend, Tracy, in…
Megan Meade's Guide to the McGowan Boys
Observation #1: Being an army brat sucks. Except that this is definitely a better alternative to moving to Korea.
Observation #2: Forget evil, laughing, little monsters. These guys have been touched by the Abercrombie gods. They are a blur of toned, suntanned perfection.
Observation #3: I need a lock on my door. STAT.
Observation #4: Three words: six-pack abs.
Observation #5: Do not even get me started on the state of the bathroom. I'm thinking of calling in a hazmat team. Seriously.
Observation #6: These boys know how to make enemies. Big time.
Megan Meade will have to juggle a new school, a new family, a new crush — on the boy next door, as in next bedroom door — and a new life. Will she survive the McGowan boys?
For Macallan and Levi, it was friends at first sight. Everyone says guys and girls can't be just friends, but these two are. They hang out after school, share tons of inside jokes, their families are super close, and Levi even starts dating one of Macallan's friends. They are platonic and happy that way.
Eventually they realize they're best friends — which wouldn't be so bad if they didn't keep getting in each other's way. Guys won't ask Macallan out because they think she's with Levi, and Levi spends too much time joking around with Macallan, and maybe not enough time with his date. They can't help but wonder . . . are they more than friends or are they better off without making it even more complicated?
It's 1996, and Josh and Emma have been neighbors their whole lives. They've been best friends almost as long—at least, up until last November, when Josh did something that changed everything. Things have been weird between them ever since, but when Josh's family gets a free AOL CD in the mail, his mom makes him bring it over so that Emma can install it on her new computer. When they sign on, they're automatically logged onto their Facebook pages. But Facebook hasn't been invented yet. And they're looking at themselves fifteen years in the future.
By refreshing their pages, they learn that making different decisions now will affect the outcome of their lives later. And as they grapple with the ups and downs of what their futures hold, they're forced to confront what they're doing right—and wrong—in the present.
Emmy's best friend, Oliver, reappears after being kidnapped by his father ten years ago. Emmy hopes to pick up their relationship right where it left off. Are they destined to be together? Or has fate irreparably driven them apart?
Emmy just wants to be in charge of her own life.
She wants to stay out late, surf her favorite beach—go anywhere without her parents' relentless worrying. But Emmy's parents can't seem to let her grow up—not since the day Oliver disappeared.
Oliver needs a moment to figure out his heart.
He'd thought, all these years, that his dad was the good guy. He never knew that it was his father who kidnapped him and kept him on the run. Discovering it, and finding himself returned to his old hometown, all at once, has his heart racing and his thoughts swirling.
Emmy and Oliver were going to be best friends forever, or maybe even more, before their futures were ripped apart. In Emmy's soul, despite the space and time between them, their connection has never been severed. But is their story still written in the stars? Or are their hearts like the pieces of two different puzzles—impossible to fit together?
Readers who love Sarah Dessen will tear through these pages with hearts in throats as Emmy and Oliver struggle to face the messy, confusing consequences of Oliver's father's crime. Full of romance, coming-of-age emotion, and heartache, these two equally compelling characters create an unforgettable story.
For sixteen-year-old Charlotte Reynolds, aka Charlie, being raised by a single dad and three older brothers has its perks. She can outrun, outscore, and outwit every boy she knows—including her longtime neighbor and honorary fourth brother, Braden. But when it comes to being a girl, Charlie doesn't know the first thing about anything. So when she starts working at chichi boutique to pay off a speeding ticket, she finds herself in a strange new world of makeup, lacy skirts, and BeDazzlers. Even stranger, she's spending time with a boy who has never seen her tear it up in a pickup game.
To cope with the stress of faking her way through this new reality, Charlie seeks late-night refuge in her backyard, talking out her problems with Braden by the fence that separates them. But their Fence Chats can't solve Charlie's biggest problem: she's falling for Braden. Hard. She knows what it means to go for the win, but if spilling her secret means losing him for good, the stakes just got too high.
---
Meta-Fiction
What if you aren't the Chosen One?
The one who's supposed to fight the zombies, or the soul-eating ghosts, or whatever the heck this new thing is, with the blue lights and the death?
What if you're like Mikey? Who just wants to graduate and go to prom and maybe finally work up the courage to ask Henna out before someone goes and blows up the high school. Again.
Because sometimes there are problems bigger than this week's end of the world, and sometimes you just have to find the extraordinary in your ordinary life.
Even if your best friend is worshipped by mountain lions…
Everyone knows how the stories are supposed to go. The good guys win in the end, the hero ends up with the designated love interest, and the plucky band of misfits pulls together to save the world.
But what happens when a villain targets the nature of stories themselves? All the tropes that the heroes have come to rely on are under threat.
Technicality Man and his trusty companion Continuity Leopard must join forces with a group of minor heroes to save the day. They won't let any barrier stop them. Not even the fourth wall.
The lives of six female superheroes and the girlfriends of superheroes. A ferocious riff on women in superhero comics.
A series of linked stories from the points of view of the wives and girlfriends of superheroes, female heroes, and anyone who's ever been "refrigerated": comic book women who are killed, raped, brainwashed, driven mad, disabled, or had their powers taken so that a male superhero's storyline will progress.
A story of a son searching for his father . . . through quantum space–time.
Minor Universe 31 is a vast story-space on the outskirts of fiction, where paradox fluctuates like the stock market, lonely sexbots beckon failed protagonists, and time travel is serious business. Every day, people get into time machines and try to do the one thing they should never do: change the past. That's where Charles Yu, time travel technician—part counselor, part gadget repair man—steps in. He helps save people from themselves. Literally. When he's not taking client calls or consoling his boss, Phil, who could really use an upgrade, Yu visits his mother (stuck in a one-hour cycle of time, she makes dinner over and over and over) and searches for his father, who invented time travel and then vanished. Accompanied by TAMMY, an operating system with low self-esteem, and Ed, a nonexistent but ontologically valid dog, Yu sets out, and back, and beyond, in order to find the one day where he and his father can meet in memory. He learns that the key may be found in a book he got from his future self. It's called How to Live Safely in a Science Fictional Universe, and he's the author. And somewhere inside it is the information that could help him—in fact it may even save his life.
Ensign Andrew Dahl has just been assigned to the Universal Union Capital Ship Intrepid, flagship of the Universal Union since the year 2456. It's a prestige posting, and Andrew is thrilled all the more to be assigned to the ship's Xenobiology laboratory.
Life couldn't be better…until Andrew begins to pick up on the fact that:
(1) every Away Mission involves some kind of lethal confrontation with alien forces
(2) the ship's captain, its chief science officer, and the handsome Lieutenant Kerensky always survive these confrontations
(3) at least one low-ranked crew member is, sadly, always killed.
Not surprisingly, a great deal of energy below decks is expended on avoiding, at all costs, being assigned to an Away Mission. Then Andrew stumbles on information that completely transforms his and his colleagues' understanding of what the starship Intrepid really is…and offers them a crazy, high-risk chance to save their own lives.
---