An enthralling debut perfect for fans of Children of Blood and Bone set in a North African-inspired fantasy world where two sisters must fight to the death to win the crown. 
Sixteen-year-old Eva is a princess, born with the magick of marrow and blood–a dark and terrible magick that hasn't been seen for generations in the vibrant but fractured country of Myre. Its last known practitioner was Queen Raina, who toppled the native khimaer royalty and massacred thousands, including her own sister, eight generations ago, thus beginning the Rival Heir tradition. Living in Raina's long and dark shadow, Eva must now face her older sister, Isa, in a battle to the death if she hopes to ascend to the Ivory Throne–because in the Queendom of Myre only the strongest, most ruthless rulers survive.
When Eva is attacked by an assassin just weeks before the battle with her sister, she discovers there is more to the attempt on her life than meets the eye–and it isn't just her sister who wants to see her dead. As tensions escalate, Eva is forced to turn to a fey instructor of mythic proportions and a mysterious and handsome khimaer prince for help in growing her magick into something to fear. Because despite the love she still has for her sister, Eva will have to choose: Isa's death or her own.
A River of Royal Blood is an enthralling debut set in a lush North African inspired fantasy world that subtly but powerfully challenges our notions of power, history, and identity.
In the walled city of Kos, corrupt mages can magically call forth sin from a sinner in the form of sin-beasts – lethal creatures spawned from feelings of guilt.
Taj is the most talented of the aki, young sin-eaters indentured by the mages to slay the sin-beasts. But Taj's livelihood comes at a terrible cost. When he kills a sin-beast, a tattoo of the beast appears on his skin while the guilt of committing the sin appears on his mind. Most aki are driven mad by the process, but 17-year-old Taj is cocky and desperate to provide for his family.
When Taj is called to eat a sin of a royal, he's suddenly thrust into the center of a dark conspiracy to destroy Kos. Now Taj must fight to save the princess that he loves – and his own life.
A gritty Nigerian-influenced fantasy.
Magic has a price—if you're willing to pay.
Born into a family of powerful witchdoctors, Arrah yearns for magic of her own. But each year she fails to call forth her ancestral powers, while her ambitious mother watches with growing disapproval.
There's only one thing Arrah hasn't tried, a deadly last resort: trading years of her own life for scraps of magic. Until the Kingdom's children begin to disappear, and Arrah is desperate to find the culprit.
She uncovers something worse. The long-imprisoned Demon King is stirring. And if he rises, his hunger for souls will bring the world to its knees… unless Arrah pays the price for the magic to stop him.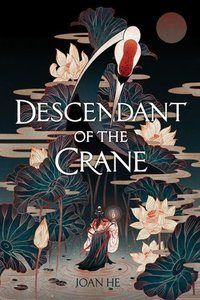 Tyrants cut out hearts. Rulers sacrifice their own.
Princess Hesina of Yan has always been eager to shirk the responsibilities of the crown, but when her beloved father is murdered, she's thrust into power, suddenly the queen of an unstable kingdom. Determined to find her father's killer, Hesina does something desperate: she engages the aid of a soothsayer—a treasonous act, punishable by death… because in Yan, magic was outlawed centuries ago.
Using the information illicitly provided by the sooth, and uncertain if she can trust even her family, Hesina turns to Akira—a brilliant investigator who's also a convicted criminal with secrets of his own. With the future of her kingdom at stake, can Hesina find justice for her father? Or will the cost be too high?
In this shimmering Chinese-inspired fantasy, debut author Joan He introduces a determined and vulnerable young heroine struggling to do right in a world brimming with deception.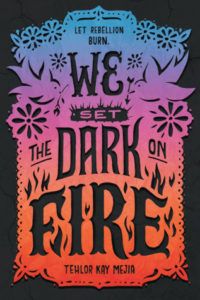 At the Medio School for Girls, distinguished young women are trained for one of two roles in their polarized society. Depending on her specialization, a graduate will one day run a husband's household or raise his children, but both are promised a life of comfort and luxury, far from the frequent political uprisings of the lower class. Daniela Vargas is the school's top student, but her bright future depends upon no one discovering her darkest secret—that her pedigree is a lie. Her parents sacrificed everything to obtain forged identification papers so Dani could rise above her station. Now that her marriage to an important politico's son is fast approaching, she must keep the truth hidden or be sent back to the fringes of society, where famine and poverty rule supreme.
On her graduation night, Dani seems to be in the clear, despite the surprises that unfold. But nothing prepares her for all the difficult choices she must make, especially when she is asked to spy for a resistance group desperately fighting to bring equality to Medio. Will Dani cling to the privilege her parents fought to win for her, or to give up everything she's strived for in pursuit of a free Medio—and a chance at a forbidden love?
Project Runway meets Mulan in this sweeping YA fantasy about a young girl who poses as a boy to compete for the role of imperial tailor and embarks on an impossible journey to sew three magic dresses, from the sun, the moon, and the stars.
Maia Tamarin dreams of becoming the greatest tailor in the land, but as a girl, the best she can hope for is to marry well. When a royal messenger summons her ailing father, once a tailor of renown, to court, Maia poses as a boy and takes his place. She knows her life is forfeit if her secret is discovered, but she'll take that risk to achieve her dream and save her family from ruin. There's just one catch: Maia is one of twelve tailors vying for the job.
Backstabbing and lies run rampant as the tailors compete in challenges to prove their artistry and skill. Maia's task is further complicated when she draws the attention of the court magician, Edan, whose piercing eyes seem to see straight through her disguise.
And nothing could have prepared her for the final challenge: to sew three magic gowns for the emperor's reluctant bride-to-be, from the laughter of the sun, the tears of the moon, and the blood of stars. With this impossible task before her, she embarks on a journey to the far reaches of the kingdom, seeking the sun, the moon, and the stars, and finding more than she ever could have imagined.
Set in a kingdom where danger lurks beneath the sea, mermaids seek vengeance with song, and magic is a choice.
She will reign.
As princess of the island kingdom Visidia, Amora Montara has spent her entire life training to be High Animancer — the master of souls. The rest of the realm can choose their magic, but for Amora, it's never been a choice. To secure her place as heir to the throne, she must prove her mastery of the monarchy's dangerous soul magic.
When her demonstration goes awry, Amora is forced to flee. She strikes a deal with Bastian, a mysterious pirate: he'll help her prove she's fit to rule, if she'll help him reclaim his stolen magic.
But sailing the kingdom holds more wonder — and more peril — than Amora anticipated. A destructive new magic is on the rise, and if Amora is to conquer it, she'll need to face legendary monsters, cross paths with vengeful mermaids, and deal with a stow-away she never expected… or risk the fate of Visidia and lose the crown forever.
I am the right choice. The only choice. And I will protect my kingdom.
When Amaya rescues a mysterious stranger from drowning, she fears her rash actions have earned her a longer sentence on the debtor ship where she's been held captive for years. Instead, the man she saved offers her unimaginable riches and a new identity, setting Amaya on a perilous course through the coastal city-state of Moray, where old-world opulence and desperate gamblers collide.
Amaya wants one thing: revenge against the man who ruined her family and stole the life she once had. But the more entangled she becomes in this game of deception—and as her path intertwines with the son of the man she's plotting to bring down—the more she uncovers about the truth of her past. And the more she realizes she must trust no one…
Packed with high-stakes adventure, romance, and dueling identities, this gender-swapped retelling of The Count of Monte Cristo is the first novel in an epic YA fantasy duology, perfect for fans of Sarah J. Maas, Sabaa Tahir, and Leigh Bardugo.
Bone ​Criers have a sacred duty. They alone can keep the dead from preying on the living. But their power to ferry the spirits of the dead into goddess Elara's Night Heavens or Tyrus's Underworld comes from sacrifice. The gods demand a promise of dedication. And that promise comes at the cost of the Bone Criers' one true love.
Ailesse has been prepared since birth to become the matriarch of the Bone Criers, a mysterious famille of women who use strengths drawn from animal bones to ferry dead souls. But first she must complete her rite of passage and kill the boy she's also destined to love.
Bastien's father was slain by a Bone Crier and he's been seeking revenge ever since. Yet when he finally captures one, his vengeance will have to wait. Ailesse's ritual has begun and now their fates are entwined—in life and in death.
Sabine has never had the stomach for the Bone Criers' work. But when her best friend Ailesse is taken captive, Sabine will do whatever it takes to save her, even if it means defying their traditions—and their matriarch—to break the bond between Ailesse and Bastien. Before they all die.
The first in an fantasy duology inspired by West African folklore in which a grieving crown princess and a desperate refugee find themselves on a collision course to murder each other despite their growing attraction.
For Malik, the Solstasia festival is a chance to escape his war-stricken home and start a new life with his sisters in the prosperous desert city of Ziran. But when a vengeful spirit abducts Malik's younger sister, Nadia, as payment into the city, Malik strikes a fatal deal—kill Karina, Crown Princess of Ziran, for Nadia's freedom.
But Karina has deadly aspirations of her own. Her mother, the Sultana, has been assassinated; her court threatens mutiny; and Solstasia looms like a knife over her neck. Grief-stricken, Karina decides to resurrect her mother through ancient magic . . . requiring the beating heart of a king. And she knows just how to obtain one: by offering her hand in marriage to the victor of the Solstasia competition.
When Malik rigs his way into the contest, they are set on a course to destroy each other. But as attraction flares between them and ancient evils stir, will they be able to see their tasks to the death?
Every enchantment has a price.
With a flick of her paintbrush, Isobel creates stunning portraits for a dangerous set of clients: the fair folk. These immortal creatures cannot bake bread or put a pen to paper without crumbling to dust. They crave human Craft with a terrible thirst, and they trade valuable enchantments for Isobel's paintings. But when she receives her first royal patron—Rook, the autumn prince—Isobel makes a deadly mistake. She paints mortal sorrow in his eyes, a weakness that could cost him his throne, and even his life.
Furious, Rook spirits Isobel away to his kingdom to stand trial for her crime. But something is seriously amiss in his world, and they are attacked from every side. With Isobel and Rook depending upon each other for survival, their alliance blossoms into trust, perhaps even love . . . a forbidden emotion that would violate the fair folks' ruthless laws, rendering both their lives forfeit. What force could Isobel's paintings conjure that is powerful enough to defy the ancient malice of the fairy courts?
Isobel and Rook journey along a knife-edge in a lush world where beauty masks corruption and the cost of survival might be more frightening than death itself.