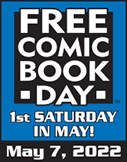 Free Comic Book Day is the first Saturday in May every year. There are a set of free comics to choose from, and stores all around the US participate. I go every year.
Here's my haul from today!
---
 This little hulk heroclix figure was given to me for free for buying more than $25 worth of stuff. I buy stuff to support the store when I go for free comic book day, and a bunch of stores do different promos and sales on free comic book day.
These buttons were also given to me for free.
I bought 4 issues of Superman/Wonder Women power couple at my sister's instistance.
These two trade paperbacks were on sale as well, so I bought them. I've liked the rebirth comics I've read, so Justice League Vol. 1 Origins seemed like a great find. And I love The Flash TV show, which this is season zero for.
These are some 1 in 50 variant covers I found. I LOVE the A + X series, and Secret Origin of Tony Stark. I like collecting variant covers. I know 1 in 50 variants aren't resold for super high amounts, but for $5, when the store generally sold them for $30, it seemed like a good deal.
I've been slowly and steadily collecting the single issues of Loki, Agent of Asgard for a while. One day I'll have them all.
These are my free comic book day free comics. I think its a pretty good haul.
---
On top of the comics and stuff I got (I spent about $37) I got some posters for free.